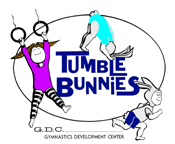 110 Rome Commercial Place
(985) 876-5769
gdcyounglearners@gmail.com

Program Description
Tumble Bunnies Plus is our 2 year old program consisting of a Tumble Bunnies Class and a Preschool Class. In Tumble Bunnies, movement, independence, and confidence are foster in a structured gym class. The second part of the class is spent in our Art Department, where the children play, sing, paint, listen to stories, and learn simple life lessons - sharing, listening, taking care of our bodies. Class times include:
Tues-Thurs: 9-10:45
Tues-Thurs:10:45-12:30
Mon-Wed: 10:45 - 12:30
Tumble Bunnies - An innovative motor skill program based on creative movement! Gymnastics activities and related skills are the mediums used to accomplish our goals for the preschooler, from the age of 27 months through 5 years. This program encourages thinking and sharing. It builds confidence, decision-making, and promotes adequate concentration time. Increase a preschooler's ability to concentrate and you effectively influence the development of their reading skills, coloring skills, writing skills, math interpretation, and perception skills. Experts tell us that with the proper early intervention strategies, we can actually increase a child's intellectual capacity. Interesting notes are: 70% of a child's intellect ability develops by age 5 and the other 30% is completed around the age of 8 or 9 years. The growth of the first 50% is stimulated through physical experiences. As their movement becomes more involved and creative, the physical experience should become more intricate and complicated as they are growing. The Tumble Bunnies Program provides a safe environment for physical experiences that challenge, promote and encourage total growth and development of the young child. In short, our goal is to assist your child in becoming a fit, thinking and productive member of today's society. Learning during those most formative years should be FUN and EXCITING! It should also be challenging. Tumble Bunnies provides a unique opportunity for challenge.
Program Schedule
The GDC Tumble Bunnies Program is a once a week class which varies by age. Our Fall/Spring Session begins in late August and runs through May. We also have summer programs. Please call or email our office for enrollment options.
News
If you are interested in our Tumble Bunnies program, please email us or give us a call. We have morning, afternoon, and evening classes available.